A family run dental practice in Lalor, Melbourne
Welcome to Stella Dental - a family-run general Dental Practice which was established by Dr Antonio (Tony) Stella in 1978. Today, we still proudly service the growing community of Lalor and its surrounding suburbs; providing a broad range of general and cosmetic dental services.
Our focus is on providing minimally invasive general dentistry, whilst maintaining a comprehensive treatment plan to achieve optimal dental health for you and your family. All of our ADA qualified and trained dentists provide friendly and very gentle, quality dental services and we strive to maintain up-to-date dental techniques as well as stringent Infection Control Procedures which are regularly reviewed.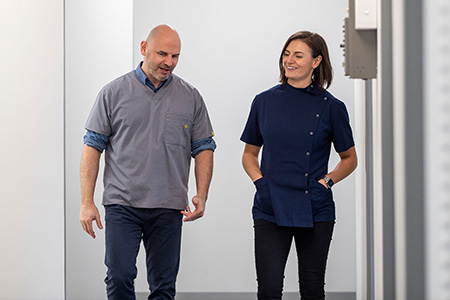 Dentistry with compassion, empathy and honesty
Our staff at Stella Dental prides itself on practicing quality dentistry seeking to treat valued patients with compassion, empathy and honesty. We value each and every patient relationship and acknowledge our patient's unique individuality and needs. So, whether it's your child's first visit to the dentist, your annual dental check-up or cosmetic dentistry, we are here to offer you a truly holistic experience.
Our Team
The staff at Stella Dental are constantly striving to provide their patients with the most current treatment options available by staying up to date on the latest advancements in dentistry.
High Standards Always Maintained
To protect our patients and staff, we maintain sterilization and cross contamination processes using standards recommended by the Australian Dental Association and AHPRA. In addition, we are a COVID safe practice adhering to Government COVID regulations and we ask that you do too when visiting our clinic. Masks must be worn at all times on our premises. We are happy to provide you with one if you have forgotten yours.
The Keys to Good Dental Health
Stella Dental believes that preventative care and patient education are the keys to good dental health. That is why we focus on thorough examinations and cleans and use X-rays when necessary to help us diagnose and then treat potential dental problems.
Book your dental appointment today! Call us on 03 9465 8833.